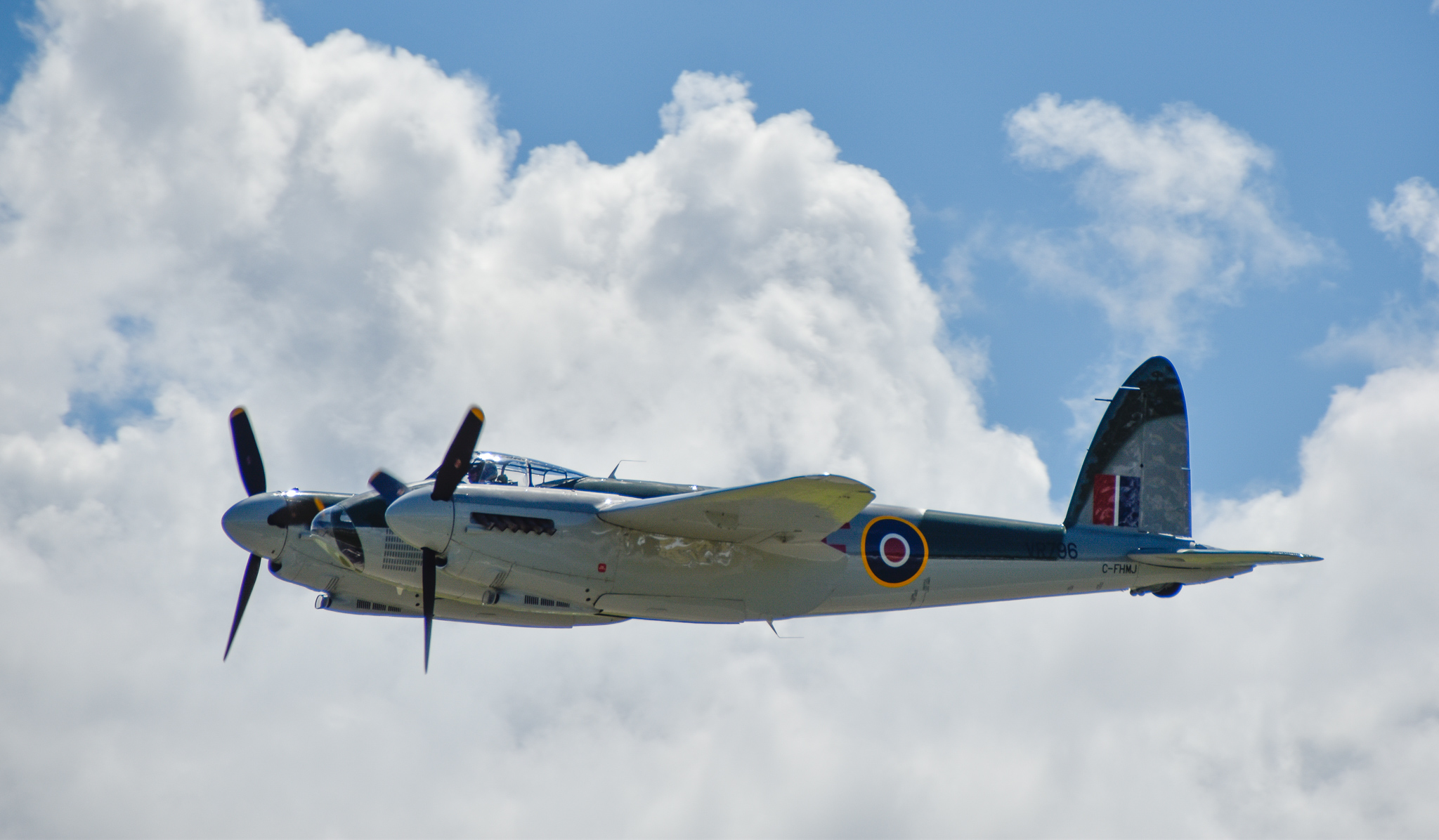 KF welcomes historic Mosquito warplane to Kelowna
The restored WW2 bomber flew from Vancouver (YVR) to Kelowna (YLW) to join the KF Centre for Excellence aircraft collection launching this August.
June 30, 2022—Kelowna—KF Aerospace is excited to welcome a wartime legend to the Okanagan Valley. The historic de Havilland 98 Mosquito (VR796), featuring a unique wooden airframe, was flown by pilot Mike Spalding to Kelowna on Thursday, June 30th.

Arriving from Vancouver International Airport, the Mosquito settled into its new home as part of the KF Centre for Excellence aviation museum and conference centre, opening in late August. It is one of 30 Mosquitos remaining worldwide, and one of two currently airworthy.

"We're absolutely thrilled to give this incredibly legendary aircraft a home in the Okanagan Valley at the KF Centre for Excellence," says Executive Director, Paula Quinn. "The fascinating story of this aircraft is something that will be shared and appreciated by visitors and community members of all ages."

Introduced by the RAF in 1941, the Mosquito, affectionately known as 'Mossie' was used extensively as an Allied night-fighter against the German Luftwaffe and quickly became one of the fastest operational aircraft in the world, clocking speeds over 640km per hour.

The Mosquito's original wooden frame is made from BC Sitka Spruce, carefully preserved thanks to a five-year restoration project completed by Victoria Air Maintenance. It was also one of many Mosquitos operated by Spartan Air Services in the 1950's and 60's to conduct high altitude aerial cartography missions all over Canada.

"It tells an absolutely amazing Canadian story," says Quinn. "The aircraft flew around the country for years, mapping out the northernmost reaches of the landscape in a way that was never before possible."

The Mosquito will be featured as part of an historic aircraft collection at the KF Centre for Excellence, which will include a Hawker Tempest MK2, the Odyssey DC-3 and a Convair CV580 among others.
 About the KF Centre for Excellence 
 The KF Centre for Excellence is a legacy project of KF Aerospace Founder and Owner, Barry Lapointe. Shaped in the form of an aircraft, the state of the art 60,000 sq. ft. mass timber building includes two dedicated hangar wings featuring an historic aircraft collection while the building's fuselage houses an interactive exhibition that tells the story of aviation in the Okanagan Valley.  The building's second floor features an airfield viewing gallery and conference facilities for businesses and events in the region. Welcoming visitors, residents, schools and businesses, the Centre will promote the advancement of aviation, in Kelowna and beyond.

To learn more visit www.kfcentre.ca
For more information, please contact:
Matthew Abrey
Communications Coordinator
E m.abrey@kfaero.ca
P (250) 215-1322