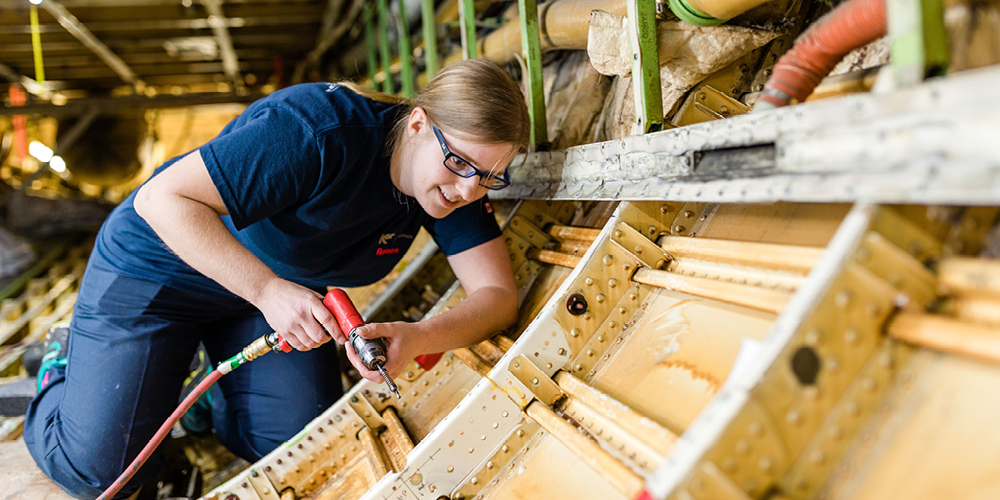 5 Questions with Structures AME | Renee Mason
1. What inspired you to pursue a career in aviation?
"I had just finished the carpentry-joinery program but wasn't sure it was for me. Okanagan College was hosting an info session about their aviation program, so I went to that and they gave us a tour of KF Aerospace. I was very impressed to see the work they were doing on planes. I thought: it's a year-long course, I may as well give it a try!"
2. First project you were proud of?
"We did a wing skin change on a Convair for Conair. It was a 5-month project. Peter Haynes helped us as much as we needed and showed us tricks and techniques. That was when I realized, I can do this."
3. What's it like leading a crew?
"I think I work well with people because I'm honest. If I see someone struggling, I'll help them out and show them some pointers. I try to get involved as much as I can when I'm leading, and love showing learners easier ways to do things."
4. What opportunities does aviation offer for women today?
"I think it's a trade where you can really push yourself and do things you didn't think were possible. When I started I would get frustrated on the simple things—now I can do a lot. It's hard, but in the end you gain a new level of confidence and it follows you outside of work too."
5. How could we do a better job of attracting women to the industry?
"I think we can do a better job at appealing to high school students. While they might be aware of the standard trades like carpentry, electrical, plumbing, I don't think they realize there's an aviation industry out there. Having girls come on-site to job shadow for a couple of days would be a great way to spark interest!"