Barry loves aviation. Since he started flying at the age of 16, Barry has logged over 18,000 flying hours (fixed and rotary wing). He is an Aircraft Maintenance Engineer by trade and the Founder & Chairman of a leading Canadian aerospace company – KF Aerospace (formerly Kelowna Flightcraft Ltd.).  Barry Lapointe's passion for flight has resulted in a lifetime of dedication to the aerospace industry in Canada.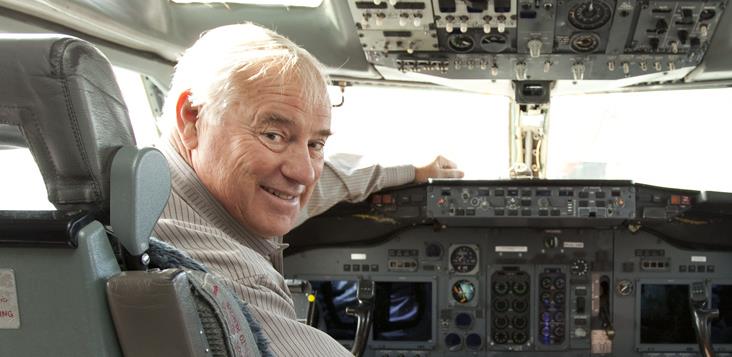 Starting out at a small aircraft repair business servicing the BC Interior from a panel van, Barry has spent the last five decades building KF Aerospace (founded as Kelowna Flightcraft)  into a respected air cargo operator; engineering (DAO), maintenance and modification provider; a pilot training organization for the Royal Canadian Air Force; and an aircraft leasing company.
Over those 50 years, he's led and shaped a truly Canadian success story—KF Aerospace.  KF is a multifaceted and highly integrated aviation company—and Canada's largest commercial Aircraft Maintenance Organization.  Employing nearly 1,000 dedicated staff across the country, Barry has them delivering exceptional quality, reliability, and on-time delivery.  KF is respected by airline brands and cargo operators worldwide, competing with the industry giants while maintaining its Canadian roots.
Barry has served on dozens of public and private boards over the years, including Purolator Courier of which he is a minority owner. His passion for aviation continues unabated and embodied in the creation of the KF Centre for Excellence, a legacy to the importance of aerospace in Canada.  "It's a place where our community can rub shoulders, where kids get to see old airplanes up close and where we can get people excited about the history and the future of aviation," he says.
Entrepreneurial, customer-focused, innovative, adaptable, humble, and generous are just a few ways to describe Barry.  While he has high expectations of those who work for him, he has re-invested significantly in the business throughout its history and shares his wealth with staff and the community.  His goal is a large, stable aviation family that delivers long-term results for KF's customers for generations to come.
Lapointe is an honorary lifetime member of ATAC and the AME associations and has been recognized by AIAC, AIABC, BCIT, Rotary, and many other organizations for his contributions and accomplishments in aerospace and the local communities.   He has supported AME Community Colleges across Canada including Okanagan College and Mohawk College and supported the University of British Columbia – Okanagan.  Through the KF Charitable Foundation, he actively supports causes across Canada including the Heart and Stroke Foundation, the Kids' Cancer Care Foundation at KGH and Girls Fly Too.
Barry was appointed the Order of British Columbia in 2015 and inducted into Canada's Aviation Hall of Fame in 2019. 
Awards
1998 – Entrepreneur of the Year, Pacific Region
1999 – Business Excellence Award from the Kelowna Chamber of Commerce.
1999 – British Columbia Institute of Technology Honorary Doctor of Technology
2000 – Honorary Life Member, Air Transport Association of Canada
2002 – Aerospace Training Innovator Award from the Aerospace Industry Association of British Columbia
2005 – Aircraft Maintenance Engineer Association Hall of Fame – Pacific Region
2007 – Vancouver College Hall of Honor inductee in recognition of his exemplary performance and achievements, for reflecting credit on the Vancouver College community and for his service to the community.
2007 – Kelowna Chamber of Commerce Business Excellence Award as Business Leader of the Year.
2008 – British Columbia Export Award for Leadership
2009 – Paul Harris Fellowship certificate from the Rotary Club of Kelowna
2011 – British Columbia Aviation Council Lifetime Achievement Award
2013 – Honorary Fellow Medal – Okanagan College for his contribution and leadership in aviation entrepreneurship
2015 – Order of British Columbia