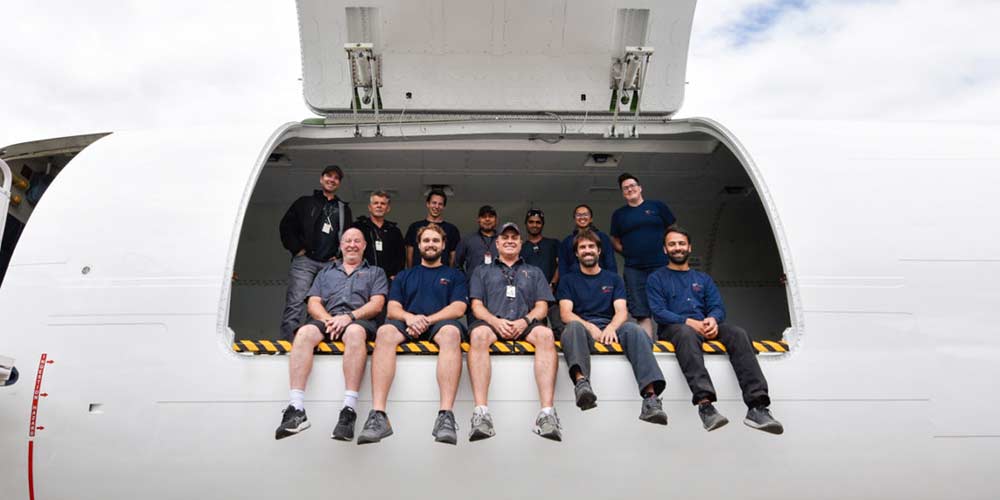 Heavy Lifting (pt. 2): Conversion Complete!
What does it take to transition a passenger aircraft into the big business of air cargo? In Part 2 of this feature series we take you inside one of the heaviest structural modifications in aviation!
KF Aerospace has turned out another milestone achievement this year: completing our first KF-owned Boeing 737-400 freighter conversion.
After flying for 11 years on lease with Flair Airlines, the former passenger aircraft has been reinvented in the hands and hangars of KF. The transformation included a Heavy C-Check and an intensive Passenger-to-Freighter (PTF) conversion program culminating in the addition of an 11ft wide hydraulic powered cargo door (see photos below). Decked out in a fresh coat of paint, the aircraft is ready to cruise the skies hauling up to 46,000 lbs of cargo.
Other cool features? The aircraft is outfitted with a Dual SBAS Landing System and an ADS-B Out system thanks to the KF Engineering division.
Using the conversion kit provided by AEI, inc. it took the precision work and craftsmanship of KF staff to turn the plans into reality. Over 30 KF AME's across 3 different crews put in thousands of work hours to complete the project and C-Check.
KF Structures-AME, Derek Kraft worked primarily in the forward cargo pit—an integral part of the conversion process. "The lower jamb holds up all the structure underneath the cargo door," he says. "It's holding up the floor beams, which then hold up the side jambs, which hold up the door itself."
"Having worked on multiple conversions with KF prior to this, I'm able to look at the project now and see what needs to be done first. When you're working with a strong team of people you can really get into a groove, planning ahead to make each step easier for each other."
For KF Apprentice and recent Okanagan College graduate, Sarah Trance, it was an opportunity to get her feet wet. Following the lead of experienced technicians like Kraft, she assisted in the cargo pit as well as helping with elements of the interior transformation, such as installing the gill liner. "This was the first cargo plane I've worked on. The whole process was really neat for me."
And she's about to get a whole lot more experience. KF's Kelowna base is well underway on a conversion for customer, Vx Capital who will bring in a second aircraft this fall, while another KF-owned B737-400 is currently being prepped for transformation.
Stay tuned as we continue to open new doors in aviation!
Before & After Photos
1. Interior View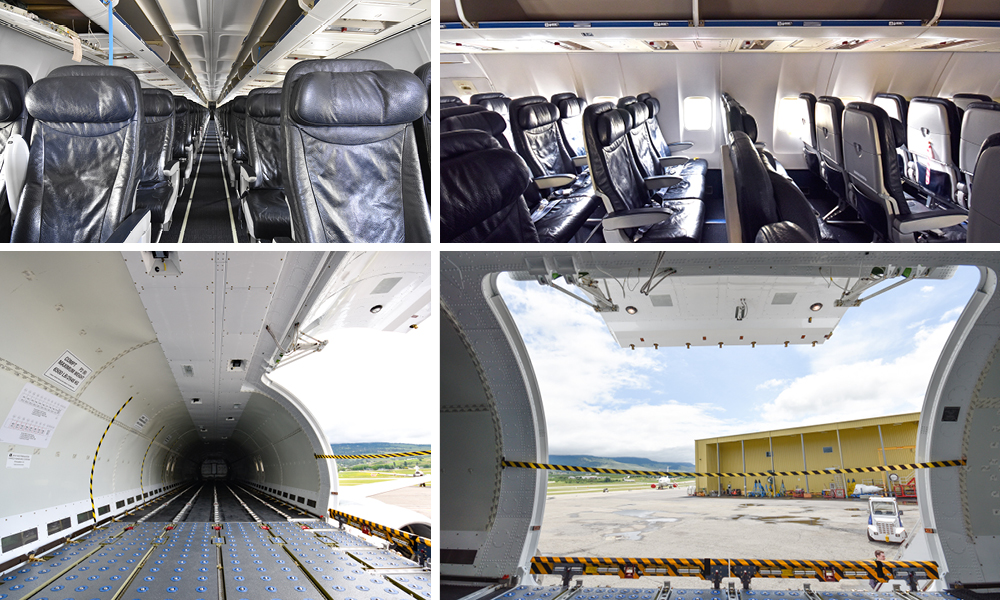 2. Head-on
3. Left-side view