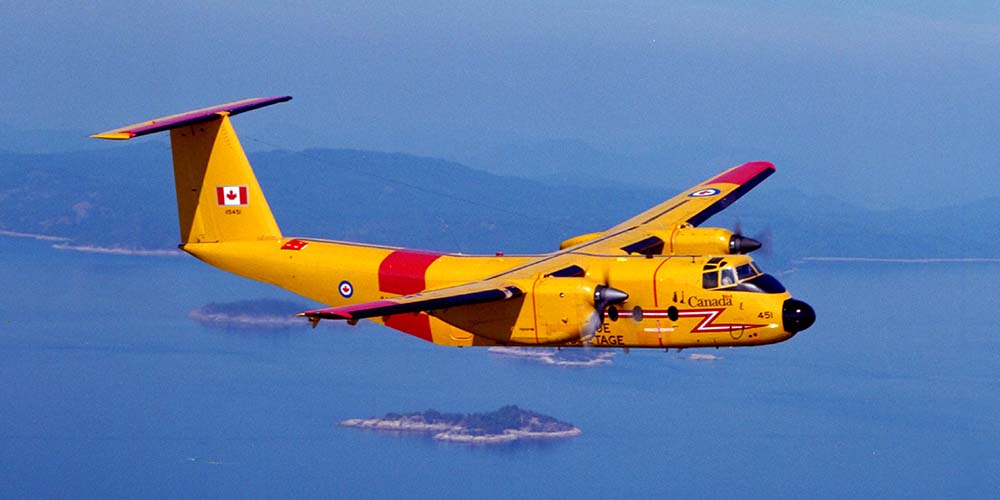 KF and the CC-115 Buffalo: A Farewell Story
Last weekend the venerable CC-115 Buffalo flew its final mission (news story here). From international peacekeeping to critical life-saving missions with Search and Rescue, the Buffalo caps off 55 years of service for the RCAF. For 13 of those years, KF Aerospace played a vital role in keeping the beloved yellow aircraft in the skies, at peak performance.
In this blog post, KF Aerospace Military Program Manager, Kelly Graves gives us a look back on some of the highlights!

What was the Buffalo best known for?
"It's a utility transport turboprop renowned for very short take-offs and landings. It was ideally suited for the mountainous coastal regions, where it could fly into a canyon and circle on a dime. Even most light aircraft can't make that turn."
"It was pegged as a good Search and Rescue (SAR) aircraft for its incredible ability to land on almost any runway or grass strip."
How did the Buffalo come to KF?
"The Buffalo / Twin Otter Bundled contract moved to Kelowna Flightcraft in 2009, amid the installation of the Buffalo Avionics Life Extension (BALE) program. It required the installation of new components and electronics into the avionics bay and cockpit of the aircraft."
"There was a steep learning curve to meet this challenge. Numerous KF Structures, Mechanics and Avionic staff worked long hours to familiarize themselves with the aircraft technical manuals and BALE modification drawing packages. The outcome was very successful—the RCAF were quite satisfied with the aircraft after KF completed the maintenance inspections and installs."

What was the purpose of the BALE Program?
"The avionics program brought this legacy type aircraft into compliance with modern regulations."
"Because it was such an old aircraft, it was very difficult to maintain. In the succeeding years, when the contract was re-bid, our experience with aging aircraft like the Cosmopolitans, along with the successful completion of multiple Buffalo and Twin Otter maintenance visits, really gained us the advantage in winning the government contract bid."
"We knew what it took to complete heavy maintenance on old aircraft."
What kind of expertise did KF staff bring to the project?
"We had somewhere around 40 staff dedicated to the bundled contract for the Buffalo and Twin Otter. This involved avionics, maintenance, engineering, structures, shops and manufacturing, non-destructive testing (NDT), logistics and program management support personnel."
"We also have embedded employees in Comox, BC, Yellowknife, NWT and Gatineau, QC providing logistics, tech support, and on the ground support."
What kind of operations did the Buffalo perform?
"It was first introduced for military transport missions. There were a couple over in Africa, and one where an aircraft was shot down over Syria resulting in the loss of 9 Canadian peacekeepers."
"It was later designated for light transport (the Hercules took over heavy transport) before its final role with SAR for the past 30 years. It's flown from the Alberta-Saskatchewan border all the way to Yukon and Northwest Territories, and for all of the coastal patrols for fishing boats and people in distress. It's also flown several missions here in the Okanagan searching for crashed aircraft."
The legacy lives on…
"The Department of National Defence will keep 3 CC-115 Buffalo aircraft as historical artefacts and the remaining aircraft will be transferred to museums or used as training aids. As for KF, all of our skills and experience gained with the Buffalo program continue to be relevant to our multi-faceted MRO services."
Quote from Major Sean Petrie of the Department of National Defence:
"To all the teams who have been involved to ensure that the CC115 Buffalo reached this historic milestone, thank you for all of your hard work and dedication. There was a time in 1995 when discussions to retire the CC115 were well underway due to ELE. Here we are 27 years later, finally retiring the mighty Buffalo. This is a testament to the incredible work by all those involved to support the CC115 in its primary role of SAR and saving Canadian lives."