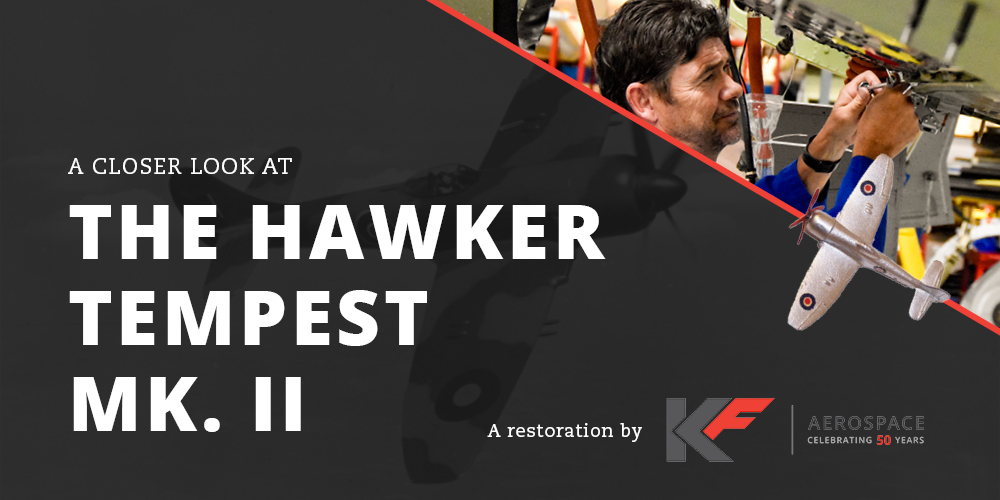 Why and How KF is Restoring a Warplane
Nearly 80 years after missing its role in the theatre of war, the Hawker Tempest II will take centre stage in Okanagan skies thanks to a breakthrough restoration by KF Aerospace.   

A Little Boy and A Toy Plane
Warplane restoration isn't exactly a core business focus at KF—so why have we taken the Tempest under our wing? To answer that question, we turn back the clock with the man himself, our founder Barry Lapointe.
"When I was around 8 years old, I had a collection of small metal airplanes made by British toy maker, Dinky Toys. One of those aircraft was a Tempest MKII," he says. "I had it for years and then forgot about it until I found myself in an old hangar in New Zealand, where I was picking up my Beechcraft Staggerwing. That's where I spotted it." Barry had stumbled upon the life-size components of his childhood toy.
"The aircraft had bounced around the world after the war in Turkey. She had been belly-up somewhere in France, then went to the United States for restoration before a chap in New Zealand bought it. Unfortunately, he died in a plane crash. So again, she sat in a million pieces," he says.
"Then entered me—I studied the parts and history. With only eight remaining in the world (none flying) I thought it would be a great project, so that's when I acquired her."

A Mission for KF: Turning a Half into a Whole
When Barry bought the Tempest, he was expecting about 90 per cent of the original aircraft. "Not so when we got it to Kelowna," he says. "So, we rolled up our sleeves, got Engineering online and the project was started."
Admittedly, this has been the defining challenge of the project since its launch in 2014—putting KF's restoration crew to the test. Working in tandem with Shift Lead, Jeff Patzer and Scott Graham, Senior AME-Mechanic, Jamie Spilchuk says they have been walking a fine line between historical preservation and innovation.
"One of the biggest challenges is that we only started with about half an airplane—if that," says Spilchuk. "There are no other parts anywhere in the world. Most of the data and parts disappeared with the aircraft."
With the last of its kind tucked into museums and personal collections, unfit to fly, the restoration work has sent them on an international scavenger hunt. "We now have all the technical drawings that exist in the world for this aircraft, but it's still not enough," says Spilchuk. "I've spent a lot of time on the computer designing, modelling, 3D printing and making parts, often relying solely on photographic references. Sometimes you're just looking at a corner of that part in a photo and that's all the data you get."

Making Progress: New Engine and Landing Gear
The primary goal is to get the aircraft ready for 21st century flight. To achieve this, the team has given the Tempest a modern-day upgrade: a new Pratt & Whitney R2800 engine. Installing the engine has been an especially tricky process, says Spilchuk. "The engine has never been installed on this aircraft before; there are a lot of modifications and design work that needs to take place."
When debuted in 1943, the Tempest II came with a Bristol Centaurus Engine (one of the most powerful wartime aircraft piston engines) to help supercharge the RAF's attack on Nazi Germany. By the time plane rolled off the factory floor however, the war had ended.
"That engine stopped production not long after the war. They had a terrible safety record and for us, safety is paramount. So that's why we chose the Pratt & Whitney," says Spilchuk. "We are going to build it as close as we can to the original, but when you're building a warbird to fly, the requirements are much different. Swapping in some modern parts and American hardware is the only way we will make our deadline."
The team has also overhauled the landing gear and its hydraulic systems. "We started with a bunch of old rusty pieces and made it all like new," says Spilchuk. "A lot of the parts we manufactured with the help of the KF Machine Shop."
Curious about what they're tackling next? Just hop over to the Tempest's official Facebook Page where Interactive features like 'Ask the Mechanic' have helped garner a 5,500-strong following.

Preparing for Take-Off
Outside the hangar, another set of challenges await. KF Pilot and Tempest Program Manager, Dave Eccott will be working on the aircraft registration, airworthiness approvals and a rigorous flight test program to ensure the plane can be safely operated.
"Our flight test program will be developed very carefully with incremental envelope expansion steps," he says. "I am adamant that any flight testing will be done to the same careful standards that we use to test 737's."
The Tempest is expected to fly in 2022. That's when it will also be unveiled as the crown jewel of the KF Centre for Excellence, an aerospace museum and conference centre that will spotlight the Okanagan's aviation heritage.
With the target date set, KF has put more hands on deck. A full-time crew is scheduled this fall, with support from KF Shops & Manufacturing, to help bring the project to the finish line.
Barry will be counting on them. "KF has so many departments to draw on: engineering, electrical, sheet metal, mechanics, painters and plain old dreamers like myself," he says. "It will get done and be the only Tempest to rule the sky in Canada."
And no one else will be watching with quite as much anticipation.
"It's a flight that hasn't taken place since I was 8 years old with the model."