Women of Aviation Week with KF Aerospace
From aircraft maintenance to military pilot training—our team members play a vital role in Canada's exciting aviation industry. In celebration of the upcoming International Women's Day and its 2023 theme #EmbraceEquity, we are excited to share the voices of 4 women across our Canadian operations. Hear about their different journeys into aviation, what it's like to work in a trades environment, and their vision for building an inclusive industry. We hope they inspire you—and we invite you to join the conversation by sharing this feature with someone in your community.
1. Stacy, Project Supervisor at KF Kelowna | 17 years
What do you do at KF?
"As a Project Supervisor, I'm in charge of a specific maintenance project from start to finish. I work directly with our customer representatives, maintain the project timelines, oversee the financials, deal with any issues that may arise, and act as a liaison between our crews and hangar manager."
"It's rewarding to play a part in getting people and things where they need to be, safely. Aviation makes it easy for people to see their families or go on vacation, and to get critical parcels delivered quickly."
How did you get your start in aviation?
"I started my apprenticeship at KF after completing the aircraft mechanic (AME-M) program at Okanagan College and Northern Lights. In a big MRO like KF Aerospace, an aircraft mechanic (or AME) is responsible for powerplant, flight controls, gears, rigging, engine runs, arrivals, and departures. Aircraft are highly regulated based on their maintenance schedules—without the hard work of AME's, the aircraft can't fly."
How are you empowered by your role?
"When I was pregnant with my first child, I was able to move into a supervisor role overseeing our interior technicians. It was a new role that I helped to hone, and it allowed our crews to work more efficiently. When I came back from maternity leave, I was able to continue that role for a year and a half. On my second maternity leave I moved to another hangar, in a similar supervision role. I've had lots of variety and flexibility in my career with KF, I've been able to raise two children and become KF's first female Project Supervisor."
Do you see examples of equity in the workplace?
"We've made a number of improvements at KF over the years, offering maternity and paternity guides, gender-appropriate safety gear, and inclusive washroom facilities. We also have different tool sizes available, for example, smaller drills. I'm petite and have a small step ladder that I use, but on the flip side I don't have to bend or crouch into small spaces of the aircraft. There are truly opportunities for all individuals of all shapes and sizes. We need diversity in aviation."
What does the future look like?
"When I started at KF we had less than 10 trades women. Today I'm seeing more and more women in the aviation trades, especially in Aircraft Structures where the schooling is a 10-month program—which is more manageable if you have kids at home. But to see more change we must continue working at the high school level to engage minorities, especially as older generations start to retire."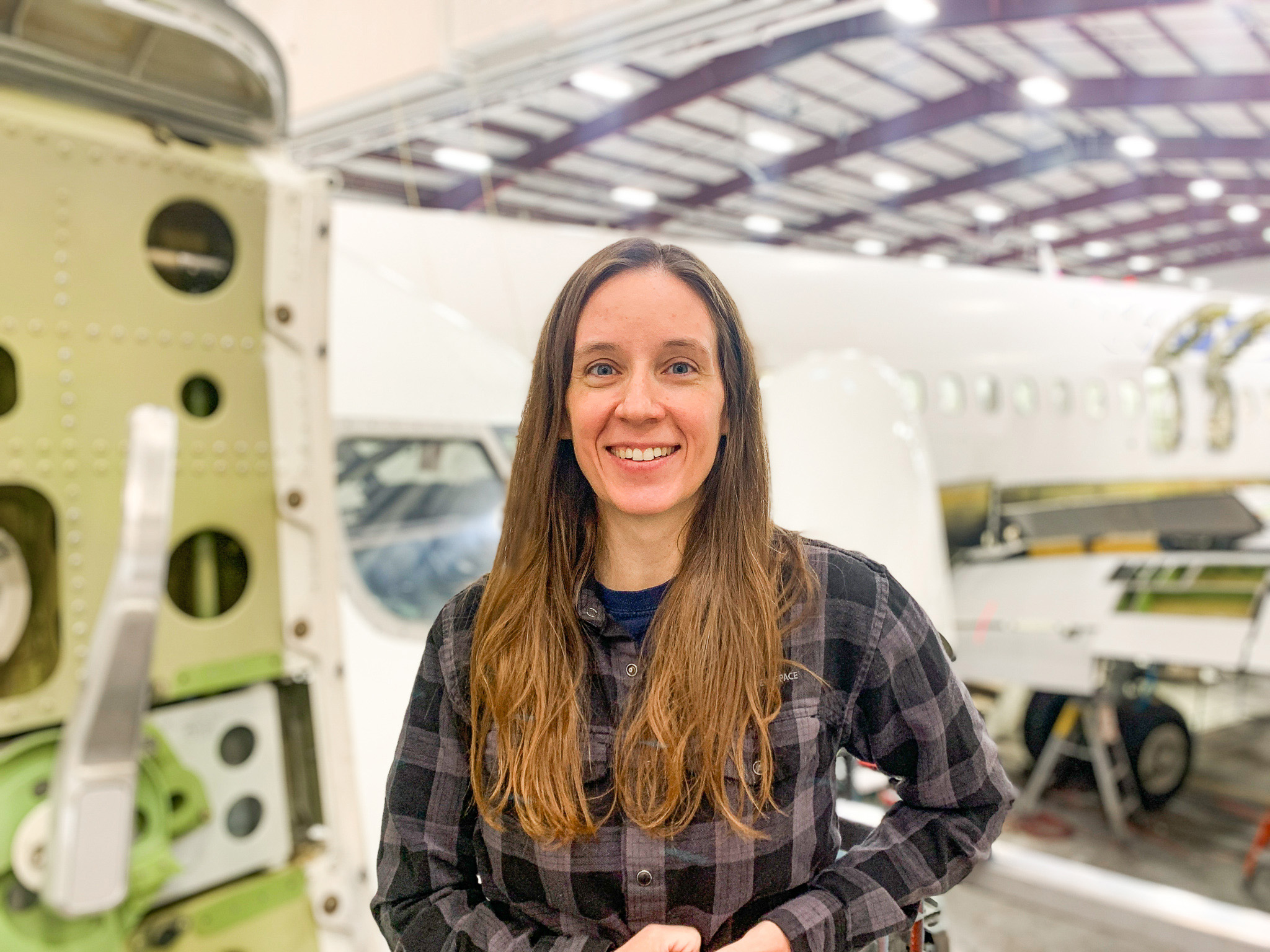 2. Laura, Senior Supply Chain Support, KF Vancouver | 10 years
What do you do at KF?
"I work behind the scenes, pulling all the strings to make sure our crews and projects are positioned for success. I was recently promoted to Senior Supply Chain Support which oversees an array of processes from shipping and receiving, to record keeping, inventory control, data entry, and managing our ground service equipment. I also fully support our aircraft mechanics, ensuring all their tools, parts and paperwork are ready for them."
How did you get your start in aviation?
"Prior to KF I was working in the janitorial and sanitation sector. Aviation wasn't even on my radar. I started at KF Kelowna in an entry-level role at the tool counter, which is a bit like Lordco. But I wasn't content to sit still and wanted to know more about our inventory systems. Over the years I was trained in both Material Coordination and Production for our aircraft maintenance programs. I had an incredible supervisor who was a great mentor. He made sure I had all the knowledge to be successful. In 2017, I took on my first Supervisor role."
How are you empowered by your role?
"From where I started, to where I am today has been an empowering journey. I've had support from all levels of the company and it has helped instill confidence to do my job."
"Since joining the KF Vancouver team in 2020 I've been able to expand my Supply Chain role as our operations grow, especially augmenting our Inventory Control practices. Having a higher level of responsibility continues to grow my confidence. My voice is heard. People come to me and ask questions, they lean on my knowledge."
Do you see examples of equity in the workplace?
"Often our aircraft mechanics come in with different levels of experience, and we invest heavily in training to ensure each of our staff are equipped to respond flexibly to different projects. If you don't know something, we'll show you."
"When it comes to mental health, I think it's important to recognize that we all have hard days. I like to check in with my staff and offer a shoulder to lean on."
What does the future look like?
"The culture is changing. I've seen it with my own daughter. She went from struggling through college, to graduating and becoming passionate about her own AME career. She followed my footsteps into aviation and has now surpassed me. I was there to help give her courage, and now she has given it to me."
3. Leah, Flight Instructor Supervisor, KF Southport| 14 years
What do you do at KF?
"I'm responsible for the performance and wellbeing of half the Grob instructors in Southport and their students. Typically, my day starts off meeting with students then going for a flight. I help instructors plan their days and missions, and I also meet with students to help them with any problems they're having."
"I started with KF as a Phase 1 Flight Instructor, teaching the basics, like straight and level, and aerobatics. For the past two years I've been teaching Phase 2 training for more advanced flying, such as navigation and instrument flying—which means flying through the clouds solely relying on the aircraft's instruments."
How did you get your start in aviation?
"I was lucky to be introduced to aviation through the Air Cadets. There's a real sense of adventure as you fly out into the wild blue yonder. Nothing compares. After getting my private license I took my first job at a local flying school. It was there that I realized instructing was the greatest thing you can do."
How are you empowered by your role?
"KF has been very supportive in advancing their people, and investing in their pilots at Southport so they can deliver top quality instruction. This is the place to be if you love instructing—I've been here for 14 years for a reason."
"The students I work with are being trained to do incredible things for our country, like search and rescue missions, peacekeeping and delivering aid. I get to meet the future leaders for Canada. When they go on to do great things, I like to think I had a little role in helping them on their journey."
How can we help promote equity in the industry?
"In Canada, only 8% of pilots are female. I'm one of them. I think the barriers to entry are slowly changing in a positive way. When I started it was only 6%.  We've definitely seen an increase in interest, and a lot more mentoring programs for women wanting to enter the aviation industry, which didn't exist in previous generations."
"I believe aviation is for everyone. The most important thing we can do is to show the people in school that aviation is accessible to all. By doing these features, it helps gets the image out.  At KF Southport, we attend several outreach events—all pilots are encouraged to participate. By also sending men to these events, it shows how we embrace inclusion company-wide."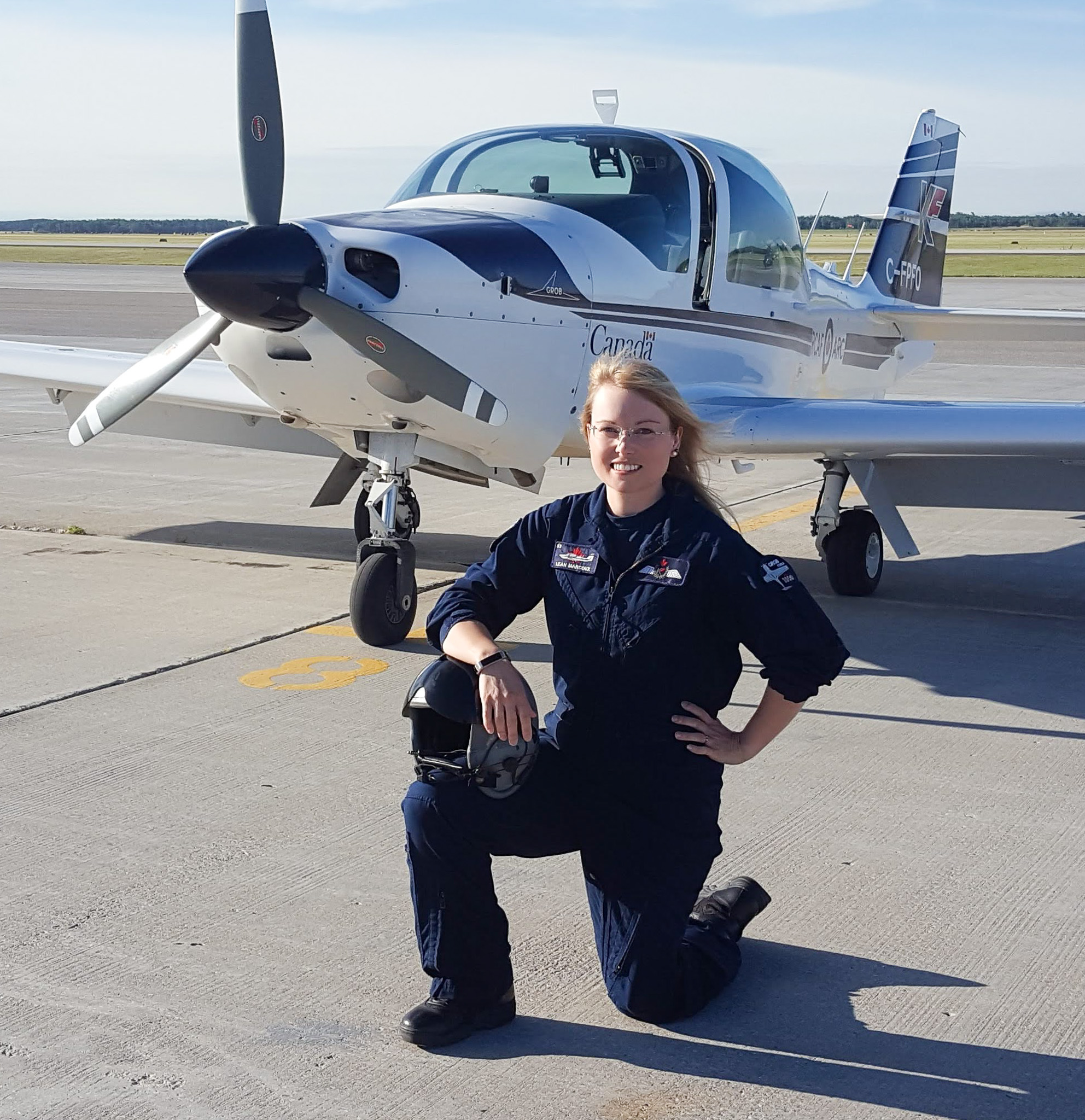 4. Julia, Training Coordinator at KF Hamilton | 1 year
What do you do at KF?
"I'm responsible for coordinating the training and credentialling of our mechanics at the Hamilton base. I manage a matrix of who is credentialed to do what tasks, at any given time. I help with onboarding new staff, making sure they get their safety training before going into the hangar. And I work with our Quality Assurance team to ensure the right staff are signing for the right things."
"Training is critical for building a culture of safety, and for supporting staff through their professional development journey."
How did you get your start in aviation?
"Before coming to KF I worked in healthcare, implementing organizational training in hospitals. My specialty is clinical documentation, helping teams switch over to new systems, making sure staff get the right training at the right time. In my first year here I've been struck by the similarities to healthcare, aviation is also a highly regulated industry. Everything is documented here, and double and triple checked, with a variety of skill sets and disciplines working together."
How are you empowered by your role?
"This role with KF has opened up a new type of service to me. I was ready for a change, so it's been very exciting so far. Over the past year I've been learning the basics, with support from my colleagues here and in Kelowna. They've been really accommodating, getting me up to speed and answering my many questions."
Do you see examples of equity in the workplace?
"I recently participated in Diversity, Equity and Inclusion (DEI) training here in Hamilton along with many of our tradespeople and staff of all ages. It was great to see everyone engaged. We learned about things like cognitive bias and how to cultivate inclusion in our workplace."
"I was happy to find that KF's facilities are geared towards inclusion. From female-friendly to gender-neutral washrooms, and prayer rooms.  These things matter a lot more than people realize and can be very easily overlooked."
What does the future look like?
"My vision of the future is to see more women in leadership positions, whether as crew chiefs or project supervisors. But to get there, we need to mentor women early in their careers–from the front door to the hangar floor. Our women apprentices will be more likely to advance if they have leaders, both women and men, mentoring them."