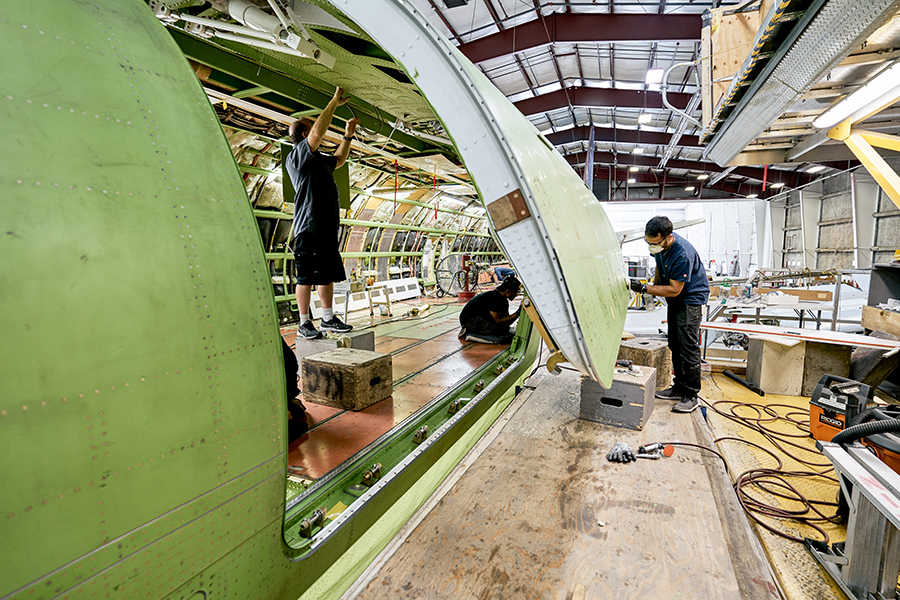 KF Aerospace and Okanagan College hosting career info session for in-demand aviation trades
Rise in e-commerce fueling expansion; career opportunities at Kelowna-based aerospace firm
Kelowna, BC – KF Aerospace and Okanagan College are hosting a joint virtual information session (Wednesday, November 17, 2021, from 6:00 PM – 7:00 PM PST) to help prospective career seekers connect with careers in aerospace.
KF Aerospace is forecasting continued heavy demand for skilled trades – particularly for Aircraft Maintenance Engineers – Structures (AME-S). KF Aerospace recently announced major expansions to its hangars at Kelowna International Airport (YLW) and a contract with Boeing to add two cargo conversion lines in Kelowna.
"Qualified AME-Structures are in high demand here at KF," says Gregg Evjen, Chief Operating Officer, KF Aerospace. "Our passenger-to-freighter conversion programs were growing before the pandemic, and that's only accelerated due to the rapid increase in e-commerce. With a significant new contract lined up that will require even more AME-Structures to be hired here in the Okanagan, this is the perfect time to start your training at Okanagan College and set yourself up for a great career."
Okanagan College offers a 37-week apprenticeship program for AME-Structures, with the next intake set to commence January 31, 2022, at KF Aerospace's facility in Kelowna. Graduates are often hired by KF immediately following completion of the program.
"Apprenticeship training gives students the tools for a successful future. Okanagan College is proud to join KF Aerospace to showcase the work of Aircraft Maintenance Engineer –Structures graduates and the heights this partnership will take students and our community," said Stephen Speers, Dean of Okanagan College Trades and Apprenticeship.
Those interested in participating can register for free online.
About KF Aerospace
For over 50 years, KF Aerospace has delivered innovative aircraft solutions for corporate, commercial and military customers worldwide—including major airlines like WestJet, Sunwing, Cargojet, Lynden Air Cargo and Icelandair. From humble roots in the Okanagan Valley, KF has grown to specialize in aircraft maintenance and modifications, military aircrew training, air cargo operations and leasing—with the same commitment to quality and service established by its founder in 1970. With facilities across Canada, KF is home to nearly 1,000 highly skilled employees. To learn more visit www.kfaero.ca
For more info: