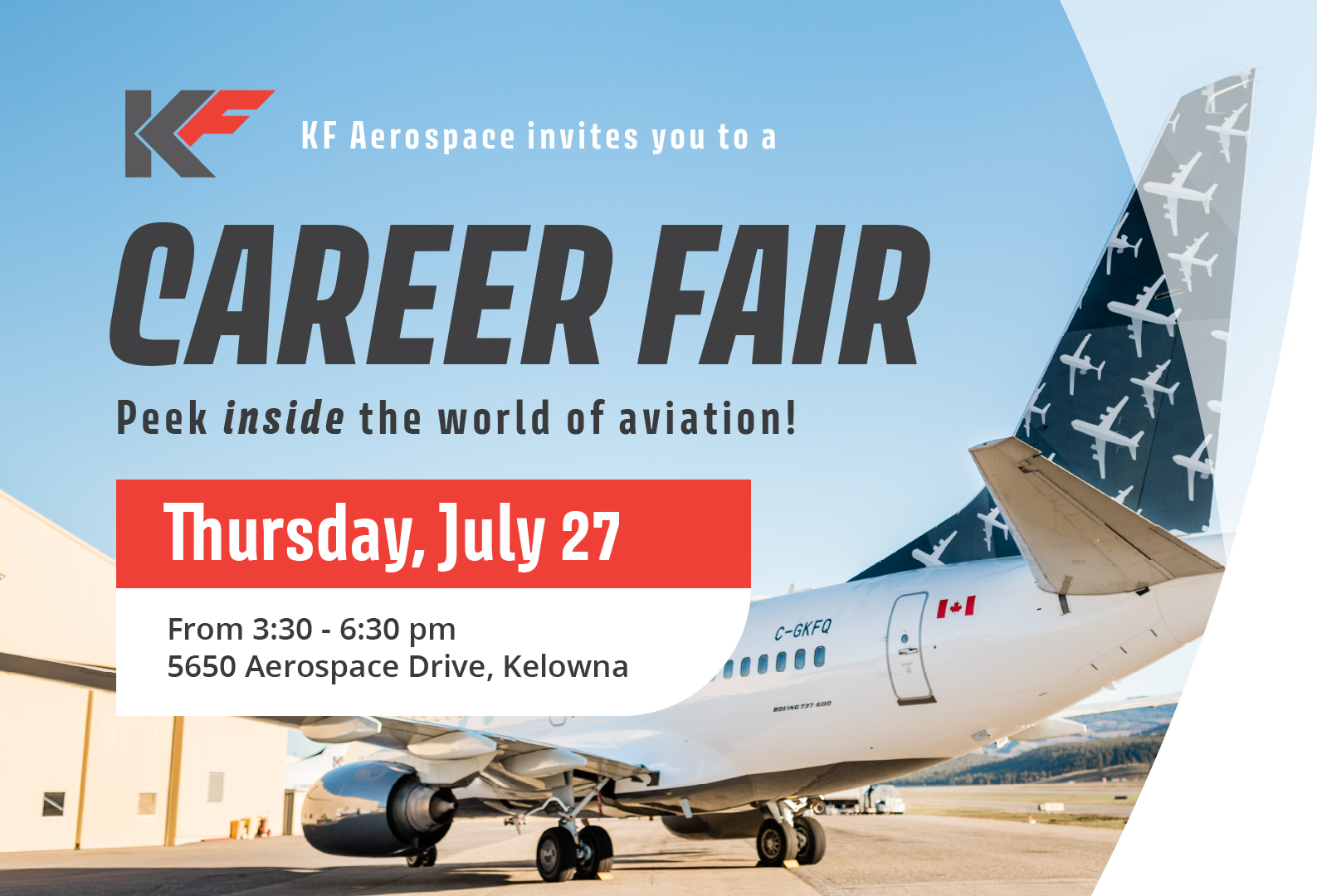 KF Aerospace Hosts Career Fair on July 27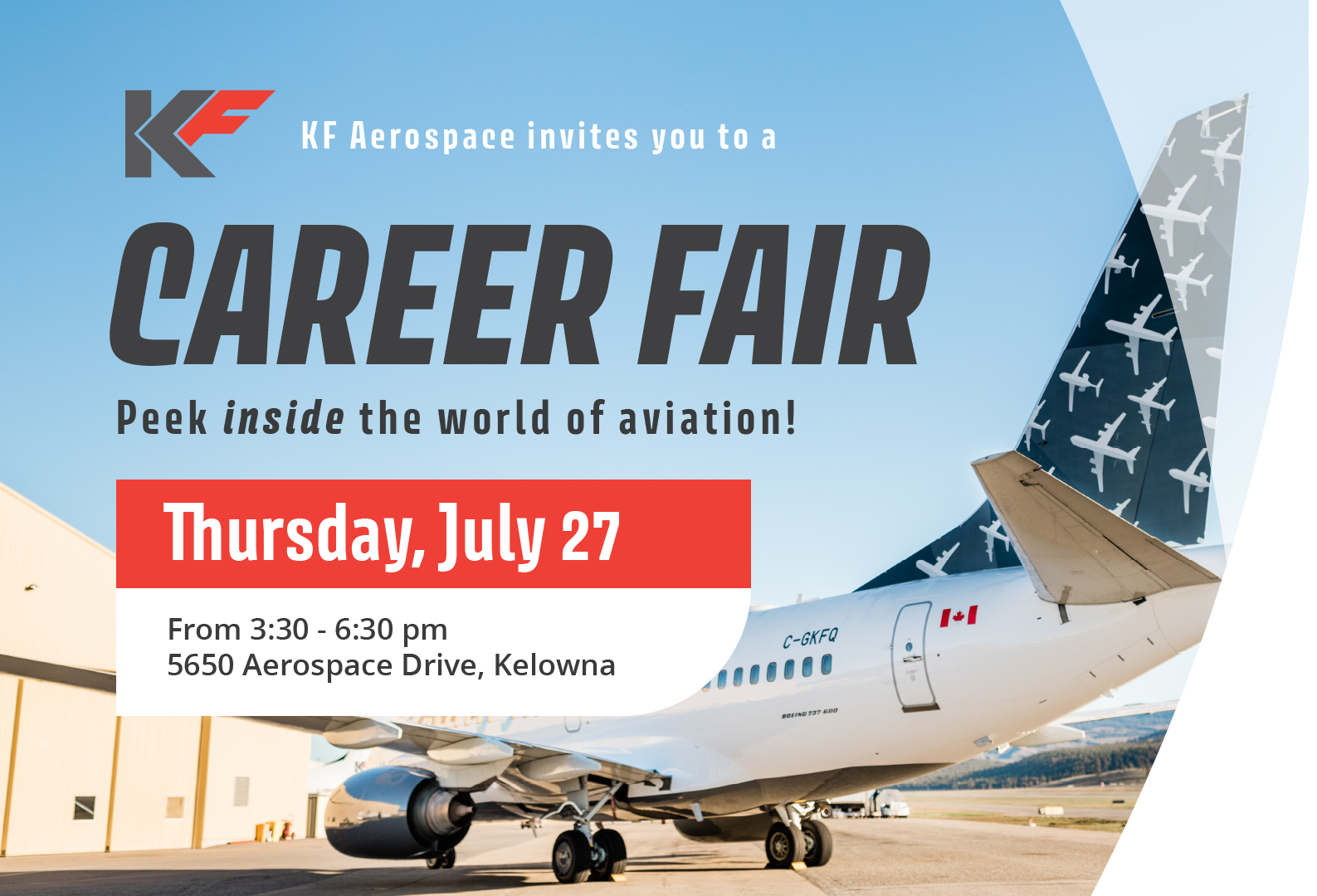 Kelowna's largest private sector employer is seeking a variety of applicants for new positions at its headquarters in Kelowna, B.C.
July 20, 2023—Kelowna—KF Aerospace is opening its hangar doors for a Career Fair and Open House Event on Thursday, July 27. You're invited for an exclusive inside look at a variety of career opportunities with KF's world-leading aviation services.
The event will showcase positions in the skilled trades, as well as administration, supply chain, logistics and aerospace engineering. Entry-level opportunities like aircraft painting, hangar support and materials coordinator positions offer candidates on-the-job training with career progression. Human Resources Director, Anne Downie, says applicants of all levels and backgrounds are encouraged to attend the event.
"You don't have to work on aircraft to build your career at KF Aerospace—we have a variety of disciplines and professional avenues on and off the hangar floor that support our aviation business," says Downie. "If you're looking for a change, have a great attitude and are ready to take the next step in your career, please come by and meet with us."
Okanagan College will be available to introduce prospective students to its Aircraft Maintenance programs, including the Structures training program on-site at KF. Guests can also join guided tours of the facility and meet with KF staff ambassadors from across the company to learn more about their unique roles.
Recent hangar expansion projects have added 40,000 square feet to KF's Kelowna base, helping support growing demand for its aircraft maintenance and modification services, says Chief Corporate Services Officer, Grant Stevens. "We are increasing staffing to accommodate work requests for our customer projects like the Boeing Converted Freighter program, our aircraft leasing division and other segments of the business," says Stevens.
The YMCA Child Care facility at the YLW Airport Campus is scheduled to open this fall, with dedicated spaces for KF families to help support their work-life balance.
KF is proud to offer its staff industry competitive wages, a comprehensive employee benefits package with extended medical and dental coverage, paid time-off, career advancement, and an annual profit-sharing program.  KF also offers both a wellness and personal spending account and has an onsite café.
The KF Aerospace Career Fair takes place on Thursday, July 27, from 3:30 to 6:30 p.m. in KF's West Hangar, located at 5650 Aerospace Drive in Kelowna. Free parking will be provided. For a sneak peek at KF's current openings, please visit www.kfaero.ca/careers.
About KF Aerospace
We're all about the craft.
For 53 years, KF Aerospace has delivered innovative aircraft solutions for corporate, commercial and military customers worldwide—including OEM's like Boeing; major airlines like WestJet, Sunwing, Air Canada, Lynden Air Cargo and Icelandair; and the RCAF. From humble roots in the Okanagan Valley, KF has grown to specialize in aircraft maintenance and modifications, military aircrew training, passenger and cargo flight operations, and leasing—with the same commitment to quality and service established by its founder in 1970. In 2022, KF launched a charter passenger airline, KF Aeroflyer, providing service out of Kelowna and Calgary. KF Aerospace is Kelowna's largest private sector employer with 800 staff in the Okanagan, and over 1,100 staff across Canada.
To learn more visit www.kfaero.ca
For more information, please contact:
Julie Whittet
Corporate Communications Officer
E media@kfaero.ca
P (250) 491-5500