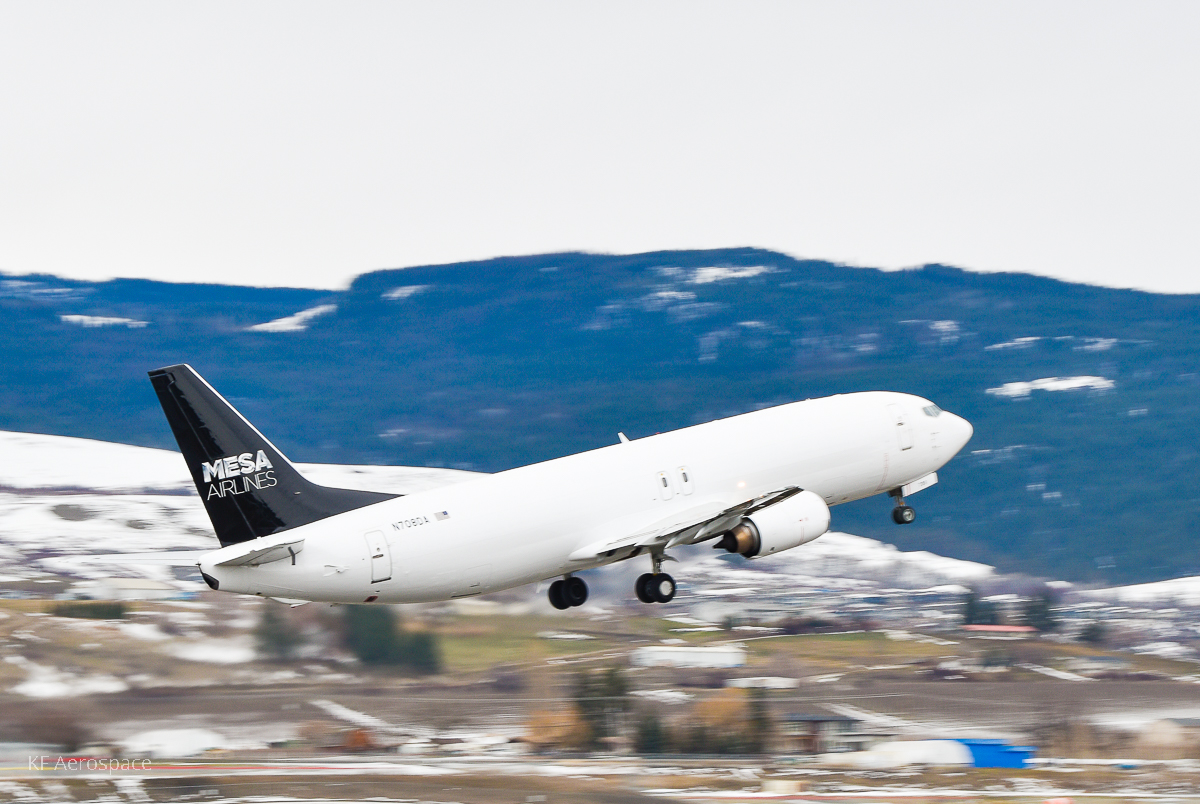 KF Aerospace leases a B737-400SF to Mesa Airlines
The aircraft received a cargo conversion, maintenance and modification program at KF's MRO in Kelowna, BC, Canada.
March 1, 2022—Kelowna—KF Aerospace is excited to announce the delivery of its converted B737-400SF to US-based air carrier, Mesa Airlines.
The aircraft received a complete maintenance program and Passenger to Freighter Conversion at the KF Aerospace MRO in Kelowna, BC. The conversion included the installation of an 11-ft wide hydraulic-powered cargo door kit supplied by Aeronautical Engineers, Inc., complete with a new freight interior and cargo loading system.
KF's Engineering division played a critical role in coordinating a series of modifications required for the customer, which included the completion of a rigorous familiarization with the FAA for operation in the United States, requiring test flights at Moses Lake, Washington.
It is one of three KF-owned B737-400 series passenger aircraft to be converted and leased as cargo aircraft. The other two 400 series are currently providing cargo services in Iceland.
"We are pleased to be delivering another high quality and reliable freighter," says Bryan Akerstream, Director of Business Development. "The B737-400 provides an economical solution for narrow-body cargo operators, and we see an ongoing demand for the aircraft."
"KF Aerospace continues to expand its air cargo leasing division with aircraft including the B737-300, B737-400, B737-800, and in 2022 we will introduce our first ATR 72-500 conversion," says Akerstream.
While on lease with Mesa Airlines, the B737-400 freighter will be based in Cincinnati to support their cargo operations.

About KF Aerospace
We're all about THE CRAFT.
For 52 years, KF Aerospace has delivered innovative aircraft solutions for corporate, commercial and military customers worldwide—including OEM's like Boeing; major airlines like WestJet, Sunwing, Cargojet, Lynden Air Cargo and Icelandair; and the RCAF. From humble roots in the Okanagan Valley, KF has grown to specialize in aircraft maintenance and modifications, military aircrew training, air cargo operations and leasing—with the same commitment to quality and service established by its founder in 1970. With facilities across Canada, KF is home to nearly 1,000 highly skilled employees.
KF currently owns and leases 15 aircraft to operators across North America, including B737-300/400/800 dedicated cargo airframes.
To learn more visit www.kfaero.ca
# # #
For more information, please contact:
Bryan Akerstream
DIRECTOR OF BUSINESS DEVELOPMENT
E b.akerstream@kfaero.ca
P (250) 491-5519