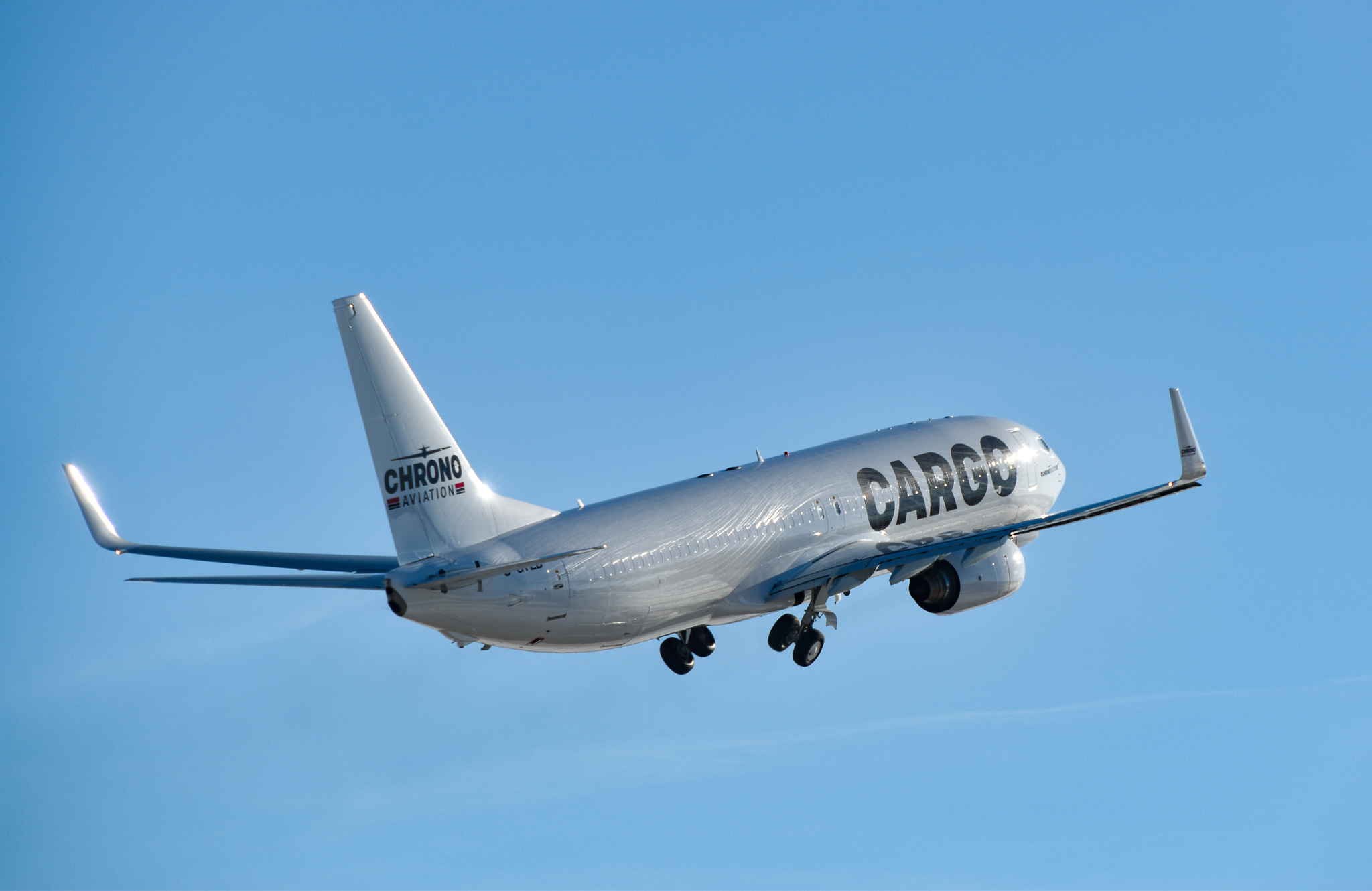 KF Aerospace leases a B737-800SF to Chrono Aviation
The aircraft was converted from passenger to cargo configuration at KF's MRO in Kelowna, BC, Canada.
KF Aerospace is excited to announce the delivery of its B737-800SF to airline, Chrono Aviation. It marks KF's first commercial lease of a B737-800 series freighter aircraft.
KF Aerospace purchased the aircraft in 2021 and performed a full Passenger to Freighter Conversion program at its MRO facility in Kelowna, BC. The conversion included the installation of an 11-ft wide hydraulic-powered cargo door kit supplied by Aeronautical Engineers, Inc. (AEI), complete with a new freight interior and cargo loading system.
It is the first B737-800 cargo door to be installed on a Canadian-registered aircraft using the AEI Supplemental Type Certificate (STC). KF Aerospace initiated the Transport Canada familiarization for this STC, as part of the project.
KF Aerospace Business Development Manager, Bryan Akerstream says it's an exciting turnkey project for the KF team. "It showcases the multi-faceted capabilities and specialties within our organization, particularly as they relate to the successful completion of such a large and complex modification program," he says.
"We are very excited with the performance of the KF team and are well positioned to provide B737-800 freighters to our customers for many years to come," Akerstream says.
KF delivered the aircraft to the customer on Thursday, February 10, 2022.
Chrono Aviation is a Quebec-based charter airline providing passenger, cargo and combi services in North America, Mexico and the Caribbean.

About KF Aerospace
We're all about THE CRAFT.
For 52 years, KF Aerospace has delivered innovative aircraft solutions for corporate, commercial and military customers worldwide—including OEM's like Boeing; major airlines like WestJet, Sunwing, Cargojet, Lynden Air Cargo and Icelandair; and the RCAF. From humble roots in the Okanagan Valley, KF has grown to specialize in aircraft maintenance and modifications, military aircrew training, air cargo operations and leasing—with the same commitment to quality and service established by its founder in 1970. With facilities across Canada, KF is home to nearly 1,000 highly skilled employees.
KF currently owns and leases 15 aircraft to operators across North America, including B737-300/400/800 dedicated cargo airframes.
To learn more visit www.kfaero.ca
For more information, please contact:
Bryan Akerstream
DIRECTOR OF BUSINESS DEVELOPMENT
E b.akerstream@kfaero.ca
P (250) 491-5519