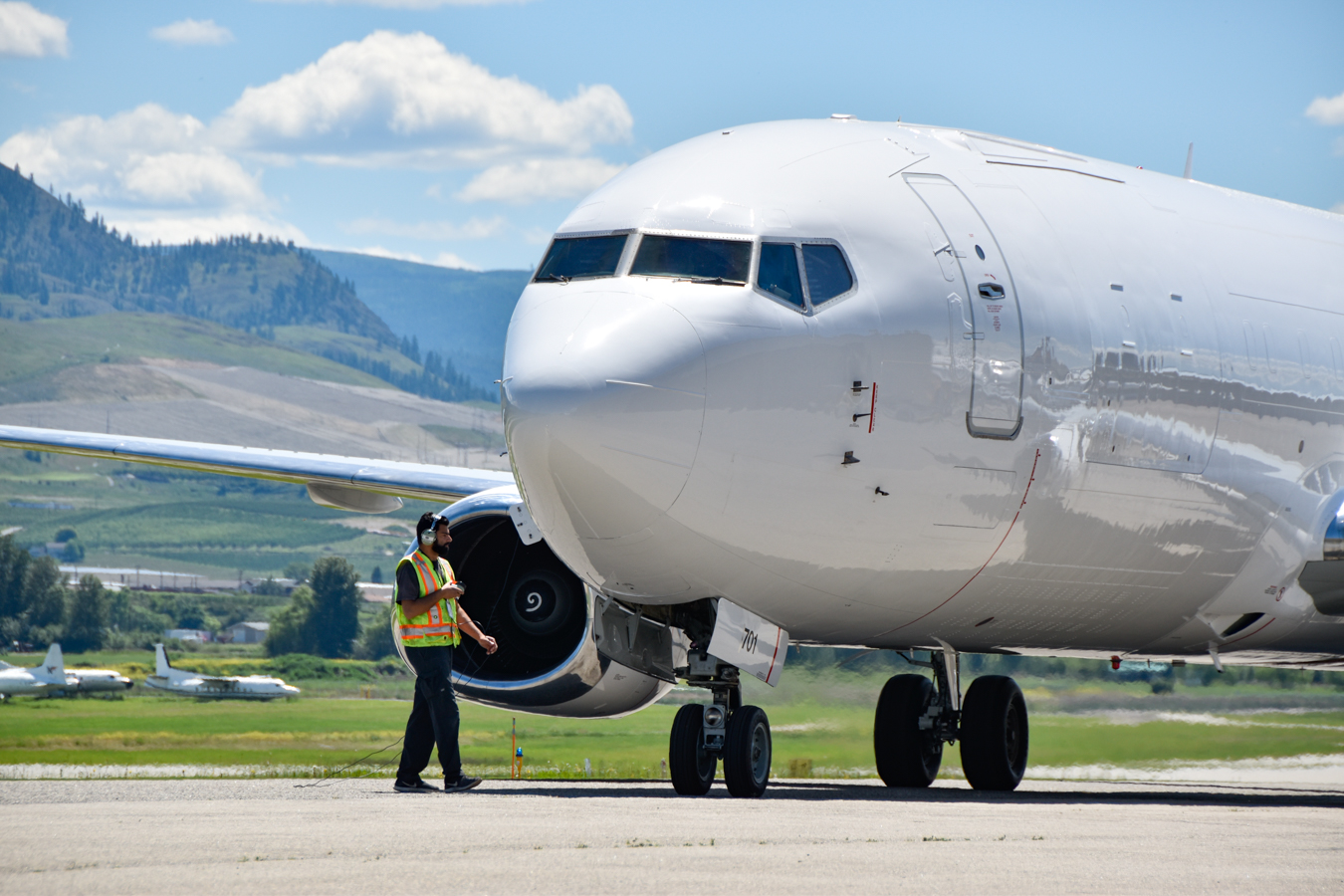 KF celebrates 100th order for ADS-B Out solution
The KF designed and owned STC is used by air operators across the globe.
November 10, 2022—Kelowna—KF Aerospace celebrates the 100th order of its ADS-B Out solution for the B737 classic series of aircraft. The KF-owned Supplemental Type Certificate (STC) is developed by the organization's world-renowned aerospace engineering division.
The STC is currently installed on aircraft operating in Canada and globally in the USA, Mexico, Malaysia, Brazil, Jordan, Egypt and several European countries. KF has familiarized the STC with the FAA, EASA, ANAC, and CAAM and the STC offers configurations to meet operational mandates in any location around the world.
The Automatic Dependent Surveillance–Broadcast (ADS-B) is a surveillance technology that allows equipped aircraft to broadcast their identity, location and other information derived from the relevant on-board avionics systems using a modified Transponder to Air Traffic Control. The system allows the tracking and monitoring of aircraft positions more accurately than ever before. As skies become more crowded, ADS-B Out is a critical tool in improving safety margins for Air Traffic Control.
KF Project Engineering Manager, Brad Schroeder says the design solution reflects KF's expertise and specialization with the Boeing product line.
"Our engineering and production teams have accomplished extensive modifications on Boeing aircraft for over 30 years. We've completed modifications on Boeing aircraft such as Cargo Door conversions, Winglet installations, Avionics installations (EFIS, HUD, ADS-B, Datalink, etc.), auxiliary fuel tank installations, and combi modifications."
KF Aerospace has become a specialist in ADS-B Out, developing solutions for a variety of other aircraft including the CASA 212, CV580, King Air C90A, and Grob G120A and installing ADS-B Out on many more aircraft at its state-of-the-art MRO facilities across Canada.
For inquiries, please contact the KF Engineering Division at engineering@kfaero.ca.
About KF Aerospace
We're all about THE CRAFT.
For 52 years, KF Aerospace has delivered innovative aircraft solutions for corporate, commercial and military customers worldwide—including OEM's like Boeing; major airlines like WestJet, Sunwing, Cargojet, Lynden Air Cargo and Icelandair; and the RCAF. From humble roots in the Okanagan Valley, KF has grown to specialize in aerospace engineering, aircraft maintenance and modifications, military aircrew training, aircraft leasing, passenger and cargo operations—with the same commitment to quality and service established by its founder in 1970. KF Aerospace is home to over 1,100 highly skilled staff at its locations across Canada.